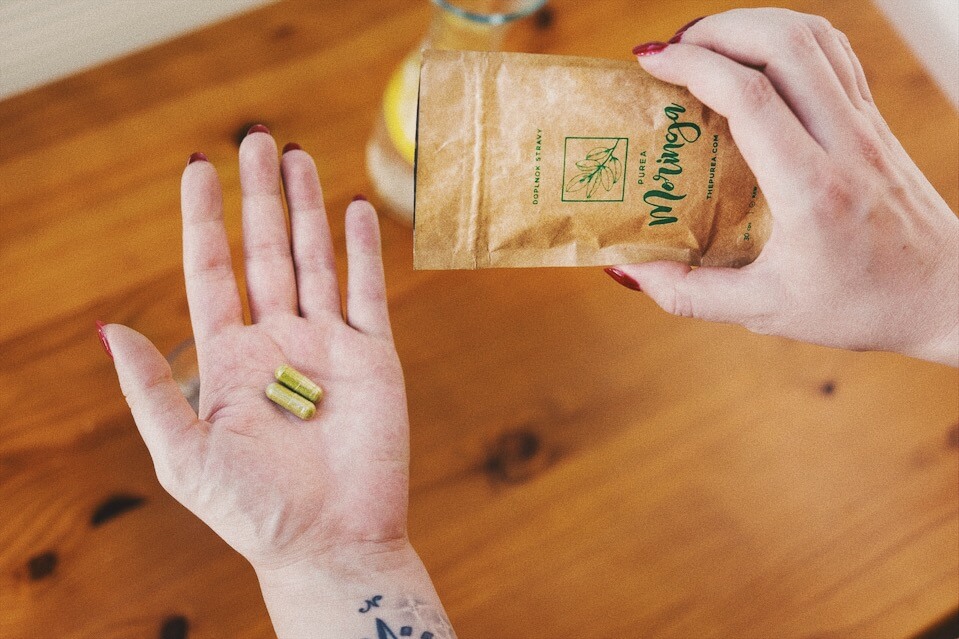 The inconspicuous miniature leaves of the Moringa oleifera tree contain a hidden treasure in the form of a wide range of vitamins and minerals which have the potential to help maintain and support your health. A growing number of scientific studies are now being conducted on this plant, with some of the most prestigious research institutions in the world joining the trend. These include American organisations such as The Johns Hopkins School of Medicine, and the National Institute of Health and the Center for Disease Control. However, Moringa has also attracted the attention of the World Health Organisation (WHO) and UNESCO.
Moringa is a truly remarkable plant. Its potential abilities are almost endless, as are the benefits of capsules made from its leaves. You can reap all the benefits of the plant simply by making Moringa capsules a part of your everyday life. While it is true that it is the tiny leaves of the tree which contain a huge amount of vitamins, minerals, antioxidants, amino acids and even protein, it should be noted that virtually every part of the Moringa is of incalculable value.
Moringa oleifera capsules are a simple and easily digestible source of nutrition. Moringa grows in tropical parts of the world, and capsules like this are ideal for the rest of the population which does not have direct access to the fresh leaves of this plant. Moringa capsules contain powder from the leaves of the plant, which have been dried at low temperatures, thanks to which all of the key nutrients – minerals, antioxidants and amino acids – are preserved in this product.
One capsule usually contains 300 to 500 milligrams of dried Moringa leaf powder, depending on the size of the capsule itself. Although Moringa oleifera leaves are consumed in several different forms, capsules have been popular for many years – even in regions where this miracle plant is grown in its natural habitat. This is to say that capsules are a convenient and practical way to take the nutrients contained in Moringa in countries such as the United States, the United Kingdom and Australia, where the tree does not grow naturally.
Moringa oleifera capsules differ from most nutritional supplements simply because they are a truly organic dietary supplement which undergoes only the minimum of processing.
Moringa is rightly referred to as a superfood as it contains:
– 30% protein
– all 8 essential amino acids (the only plant in the world)     
– 47 antioxidants       
– 36 anti-inflammatory agents          
– 25 multivitamins    
– all the appropriate enzymes which the human body needs to absorb these valuable nutrients
When we compare Moringa with other popularly consumed foods, capsules filled with dried leaf powder contain the following per unit weight:
– 7 times more vitamin C than oranges           
– 4 times more calcium and twice as much  protein than milk    
– 4 times more vitamin A than carrots           
– 3 times more potassium than bananas           
– 3 times more iron than almonds
Moringa  is such a safe nutritional supplement that it can be consumed by children, pregnant women and women who are breastfeeding, athletes and the elderly.
Incorporating Moringa capsules into your daily diet can have extremely positive effects on the body's overall energy levels, as well as physical stamina and general vitality. People who take Moringa capsules on a regular basis can experience a number of positive changes. The main benefits of this dietary supplement may include:
– increased energy levels      
– increased alertness and attention   
– enhanced endurance           
– better concentration and increased mental well-being     
– many other positive changes
Moringa capsules are available in two versions – either gelatine or 100% vegetarian capsules. As with many nutritional supplements, people usually prefer the vegetarian version of the capsules, which do not use any animal by-products during the manufacturing process. Several people also commented that they found the vegetarian capsules easier to digest than the gelatine ones. Vegetarian capsules are made from a substance known as hydroxypropyl methylcellulose, which is commonly found in plants and meets all the requirements of current food standards and norms.
USE OF OTHER PARTS OF THE MORINGA TREE
As we mentioned earlier, products made from Moringa are not exclusively concentrated on the leaves of this plant. In fact, the flowers, pods and even certain parts of the roots of the tree are also widely used.
The roots of the Moringa oleifera tree are characterised by their taste, which is reminiscent of traditional horseradish. They contain high concentrations of phytochemical compounds which may have either antioxidant or hormone-like properties. For this reason, Moringa roots may have several therapeutic effects which can provide relief to patients in many pathological situations. However, it is advisable to exercise extreme caution when consuming the roots of this tree, as they contain high concentrations of certain chemical elements which can cause toxic reactions in the human body.
Use of young Moringa pods, which are also full of valuable nutrients, is also popular in many tropical countries. They are eaten raw or prepared like peas or green beans. The riper pods are usually fried and resemble peanuts. The leaves can be eaten raw as an ingredient in salads and are also often used in cooking in the form of sauces or side dishes. Moringa flowers require cooking before actual consumption and, as a result, their taste and consistency resemble mushrooms. However, it remains true that, to reap the benefits of Moringa, you don't necessarily need to incorporate it into complex recipes – capsules filled with dried leaf powder offer all the benefits of the miracle plant.
Another benefit of Moringa is the fact that its seeds can be pressed into a delicious essential oil, which contains a high concentration of behenic acid. This is used, for example, in cosmetic dermatology as an absorbable filler instead of collagen to eliminate wrinkles, correct lip volume, neck lines and expression lines. Moringa seed essential oil has the potential to outperform even the vaunted olive oil and is also known for its rich phytonutrient content. Moringa oil is transparent, with a hint of a light-yellow colour. It is slightly sweet and exhibits exceptional stability against oxidation, which means that it does not spoil and can be stored for an extremely long time. Moringa seeds contain 38-40% edible oil.
Apart from this, the seeds of this miracle tree can also be used as a green cleanser and detoxifier. Moringa seeds can act as a coagulant. This is because they contain a protein which has the potential to bind impurities from water, causing toxic substances to collect in clumps which can then be easily filtered out using conventional methods.
The leaves and seeds are sought-after parts of the Moringa tree in traditional medicine due to their potential antioxidant and antiseptic properties. In addition to this, Moringa has recently gained popularity in the cosmetics industry due to its potential ability to delay ageing and revitalise skin cells. The possible effects of Moringa are currently the subject of active research, but at the moment the benefits of this plant can be summarised as follows:
– People who consume Moringa in the form of capsules, oil, powder, tea and other preparations have the potential to show a dramatic increase in energy levels and alertness.  
– Moringa oleifera is a rich source of nutrients including minerals, antioxidants, proteins and vitamins which can strengthen and support your body's immune system.        
– Moringa has a long natural history – both as a potential preventive measure and as a possible remedy suitable for suppressing the symptoms of various diseases.        
– The nutrients contained in Moringa  are extremely easily absorbed, which means that the human body has easy access to them.          
– Moringa may contribute significantly to the health of the cardiovascular system. It is suggested that Moringa oleifera may support proper heart functioning and healthy blood vessel functioning.
– Dried Moringa leaf powder contains antioxidants, vitamins and minerals which can enhance the body from the outside and within. This means that Moringa can protect the cells of the human body from damage by oxygen free radicals.  
– Moringa in general has the potential to help lower and stabilise blood glucose levels, which is of particular benefit to patients suffering from diabetes.        
– Moringa may have anti-inflammatory properties and may help suppress pain associated with arthritis and rheumatism.
The effective combination of nutrients contained in Moringa has the potential to improve the overall well-being of the body and increase the activity of your metabolism. The chemicals extracted from Moringa are easily absorbed and, as they are 100% natural compounds, they have no known side effects. So, if you are looking for an excellent nutritional supplement, Moringa oleifera has huge potential for you.