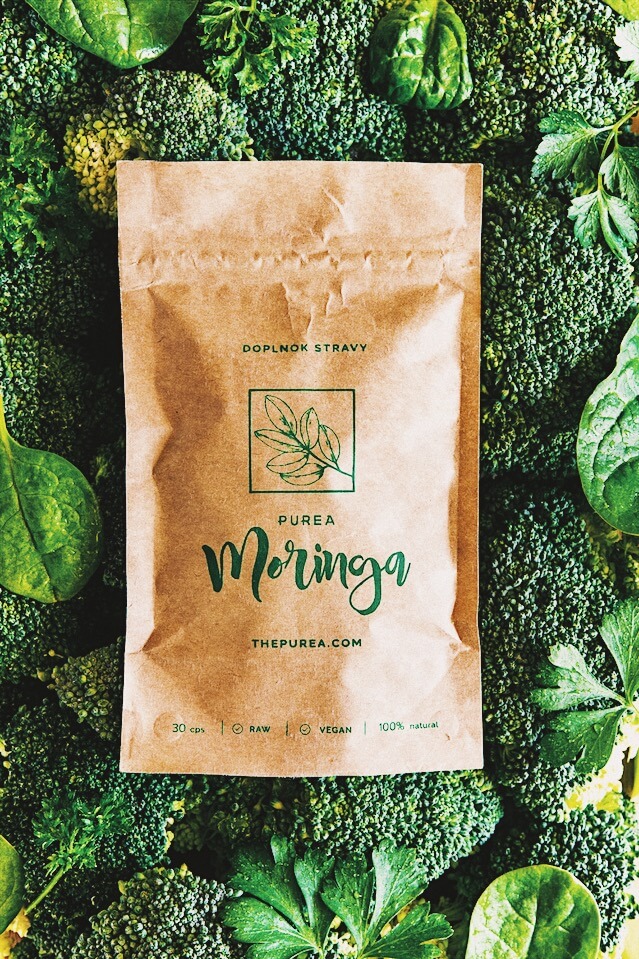 Moringa oleifera (oil-bearing) is a tree which is now considered one of the most nutritious plants in the world. Most of the beneficial effects exhibited by Moringa can be concentrated in its small green leaves. The powder is made from freshly collected leaves of the Moringa oleifera tree, which are subsequently treated by drying at a relatively low temperature until the plant tissue reaches a fine powdery consistency. Fresh Moringa leaf powder has a dark green colour and a rich earthy aroma. The powder is rid of any impurities during the last stage of preparation and finally sealed in practical capsules and plastic bags. The most remarkable feature of this product is that, once processed and packaged, it remains fresh for several months, retaining the full nutritional value of its vitamins, minerals, antioxidants and amino acids.
Powder from dried leaves is preferred simply because it contains many more nutrients for the given volume than the green leaves themselves – in some cases almost ten times the volume of specific active ingredients compared to the fresh plant matter. In terms of nutritional value, Moringa leaf powder can easily match any commonly consumed fruit or vegetable. This fine green powder is absolutely pure and organic and is easy to store and use. In addition to this, it is easily soluble in water and can be used as an ingredient in a variety of recipes.
If we wanted to summarise all the beneficial effects of this versatile product, we would have to compile an almost endless list. In fact, it contains approximately 20 types of amino acids, 46 antioxidants, 36 anti-inflammatory agents and more than 90 different nutrients, making it potentially one of the best nutritional supplements available. Moringa powder is an excellent source of minerals such as iron or calcium, vitamins A, B, B1, B2, B3, B6, C and E, as well as macro elements, trace elements and several active substances produced by plants – phytonutrients. In addition to this, it is a good source of high-quality protein and fibre.
Some of the many benefits of Moringa powder include:
1. CAN IMPROVE ENERGY PERFORMANCE
Moringa powder is a complete package of vitamins, minerals, antioxidants and phytonutrients. This nutritional supplement can be great for increasing energy levels and body endurance, as well as possibly improving concentration. Students can use it to aid concentration when studying, while for athletes it can be a good way of increasing endurance when training. In addition to this, Moringa powder can be effective in weight loss as it has the potential to provide the body sufficient energy, suppressing the need to constantly consume other foods.
2. CAN SUPPRESS MANIFESTATIONS OF DIABETES
Moringa oleifera powder can be an extremely beneficial supplement for diabetics. Capsules or drinks prepared from this powder can be consumed by diabetics with the possible goal of balancing blood sugar levels. This makes it an affordable solution which can alleviate symptoms experienced by diabetic patients.
3. CONTAINS MANY ANTIOXIDANTS
Moringa powder is rich in catechin polyphenols – especially epigallocatechin gallate (EGCG), which is a potent antioxidant with the possible effect of preventing the growth of cancer cells.
4. CAN LOWER CHOLESTEROL LEVELS
Moringa powder can also be effective in lowering cholesterol levels and suppressing the clogging of the blood vessels.
5. CAN REGULATE BLOOD PRESSURE
Another benefit of Moringa powder is constituted by its potential calming abilities – it can lower blood pressure and contribute to a good night's sleep. It is a natural remedy for insomnia, as it contains certain substances which can improve various sleep disorders.
6. CAN HAVE DETOXIFYING EFFECTS
Moringa powder can have strong detoxifying effects and, as a result, it is often used to filter and purify water. The active ingredients contained in this product can cause it to bind dangerous bacteria and other unwanted substances to itself. When consumed regularly, it can help your body eliminate toxins.
7. CAN ALLEVIATE DEPRESSION
Moringa leaf powder can also be effective in improving depression and anxiety. When you incorporate Moringa into your diet, potential results in this respect can occur in just a few days.
Moringa powder is a 100% organic dietary supplement with no proven side effects. Its consumption is therefore safe for people of all ages.
9. CAN BE BENEFICIAL FOR WOMEN WHO ARE PREGNANT OR BREASTFEEDING
This product may be particularly beneficial for women who are pregnant or breastfeeding who have inadequate access to the necessary nutrients. Approximately 6 teaspoons of Moringa powder contain the recommended dietary allowance of iron and calcium which women should consume during pregnancy and while breastfeeding.
10. CAN SUPPRESS MINOR INFECTIONS
Moringa has several valuable properties which give it the potential to suppress and eliminate minor bacterial and fungal infections, lower blood sugar levels, combat anaemia and reduce body weight.
Apart from the above-mentioned benefits, Moringa powder can also improve immunity, it has the potential to provide better nourishment to the visual system and the brain, can promote metabolism and cell structure, as well as aid the functioning of the liver and kidneys. Apart from this, Moringa can have great potential in playing an important role in skin care. The huge amount of nutrients present in the powder from the dried leaves may be the reason why it is a key ingredient in several cosmetic products.
You can use Moringa leaf powder directly as a natural compress or combine it with other suitable products to make a face mask. The skin of your face can be left feeling soft, radiant and free from any imperfections.
13. CAN SLOW DOWN THE AGEING PROCESS
Moringa can generally be an excellent source of antioxidants and is characterised by its high content of vitamin A, vitamin C, vitamin E and flavonoids. Skin ageing and skin diseases are caused by active oxygen radicals which "steal" electrons from normal healthy biological molecules. The nutrients contained in Moringa leaves can help block the oxidation of healthy tissues by toxic radicals, leading to a possible slowing of the ageing process and possible suppression of the appearance of wrinkles and skin folds.
14. CAN SPEED UP WOUND HEALING
Moringa leaf powder has also exhibited positive effects in care for cuts and other wounds. It can stimulate the production of platelets and therefore possibly stop bleeding and aid the healing process. Application of this product to wounds may result in less pronounced scarring.
15. CAN HELP IN THE FORMATION OF KERATIN
Some vitamins, minerals and amino acids contained in Moringa powder can support metabolic pathways which may be involved in the formation of a protein called keratin. This is particularly important for hair health. Moringa also contains the amino acid methionine, which can channel sulphur into the hair, preventing hair loss.
16. CAN IMPROVE HAIR GROWTH
Optimal delivery of oxygen and nutrients from the circulatory system to the hair follicles may be essential for healthy hair growth. Moringa is rich in vitamin A, thanks to which it can have beneficial effects on hair growth and nutrition. In addition to this, Moringa leaf powder can affect silica and zinc levels, which can prevent the drying and clogging of specific glands which may be involved in sebum production. Vitamin A deficiency can cause thickening of the scalp, drying of the hair and formation of dandruff.
17. CAN STIMULATE HAIR GROWTH
The zinc present in Moringa leaves can stimulate hair growth as a result of strengthening the immune system. Zinc deficiency can lead to the death of hair follicles, which occurs due to damage to DNA and protein synthesis.
18. CAN SUPPLY NUTRIENTS TO HAIR FOLLICLES
Moringa powder can be extremely rich in various vitamins. A deficiency of vitamin B6, biotin, inositol and folic acid causes hair loss. Vitamins C and E, on the other hand, can improve circulation within the scalp, which can increase the volume of nutrients available to the hair follicles (bulbs). This can ultimately lead to the growth of thicker and healthier hair. Vitamin C is needed to maintain the health of the blood capillaries which supply blood to the hair follicles.