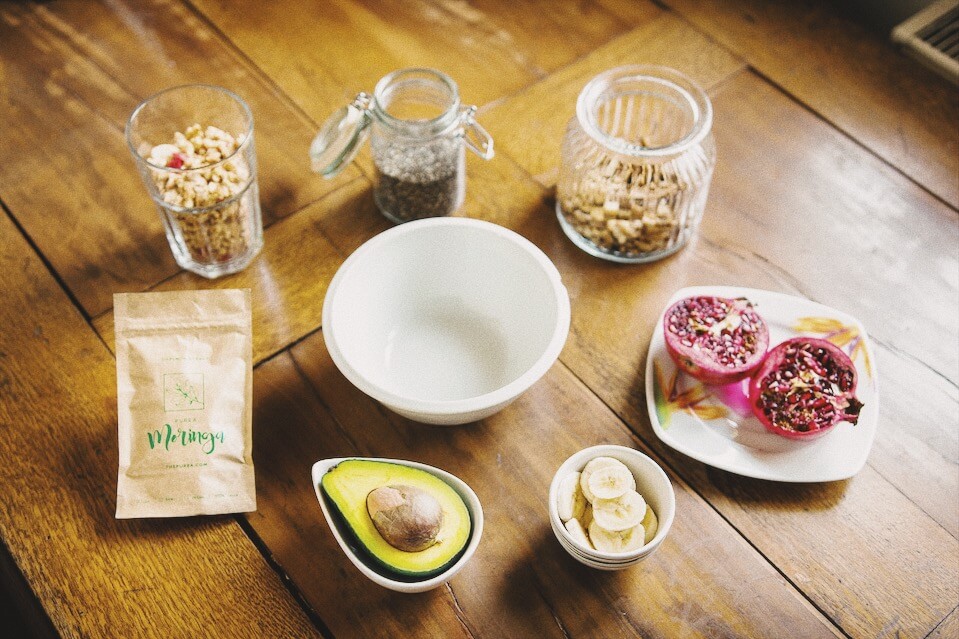 Moringa, also known as the "tree of life", is a world-renowned plant extremely rich in nutrients, native to regions of Africa and Asia. It is currently used for a variety of purposes, and interest in its potential applications in different fields is steadily growing. Moringa is characterised by a high content of natural micro-elements and vitamins, which can be especially helpful in weight loss, improving the activity of the cardiovascular system, cosmetic procedures and increasing fertility. In the following text, we will present you with some more interesting facts about this versatile plant.
WHAT IS MORINGA AND WHAT IS IT USED FOR?
Moringa oleifera (oil-bearing) is the only flowering plant species of the extensive Moringaceae family. Its name comes from the Kerala language used in the southern part of India, and translates as "drumstick". More popularly, however, it is often referred to as the "tree of life", "super tree" or "superfood of the new century". It can be used for culinary, medicinal and cosmetic purposes, and all parts of the plant – the leaves, fruits, flowers, bark and even the roots – can be utilised.
The taste of Moringa is most reminiscent of matcha green tea or spinach.
Moringa does of course have its advantages and disadvantages, so it is necessary to pay attention to the nature of its individual parts and gain sufficient information about what they can be used for.
– Leaves. The small light green leaves can be eaten fresh. They are rich in vitamins A, B and C, calcium, potassium, protein, important minerals and trace elements.
– Dried leaves crushed into powder can be an ideal source of large amounts of antioxidants as well as vitamins B, E and K. To make this powder easier to consume, researchers have developed special capsules which are filled with it and can be taken orally.
– Pods. The pods contain significantly less vitamins and minerals compared to the leaves. However, they are characterised by an exceptionally high concentration of vitamin C. Moringa  pods contain small oily nuts, which are particularly popular in Thai cuisine. They are added to various soups and are popularly used to make butter, which can be stored for an extremely long time without any risk of spoilage. In addition to this, the young green pods are often processed by baking or cooking and make an excellent garnish for main dishes.
– Seeds. One of the most significant benefits of the small seeds may be their antiseptic properties, which means that they have the potential to prevent the formation of microbial and putrefactive cultures.
– Flowers. The flowering parts of the Moringa are often used in salads. It is also possible to fry them in oil, in which case they are eaten as a culinary delicacy. They are equally popular in tea blends.
– Root. It is the underground part of the plant which boasts the highest content of trace elements, which can however have some undesirable effects in excessive doses. The substances present in Moringa  root can have a diverse range of properties useful in medicine and perfume production, as well as for fertilisation, water purification and animal nutrition. The antibiotic properties of these substances can be used with positive results in provision of care for people suffering from diseases such as asthma, circulatory and endocrine disorders, gastritis, rheumatism, digestive disorders, nervous disorders, inflammation, diseases of the reproductive system and skin problems.
Moringa may contain a significantly higher proportion of minerals and vitamins than the majority of everyday vegetables:
– contains more calcium than milk  
– the iron content is higher than that of spinach    
– contains more vitamin C than an orange  
– contains several times more vitamin A than carrots  
– contains more potassium than a banana
10 PROPERTIES THAT MAKE MORINGA A SUITABLE PART OF YOUR DAILY DIET:
1. CAN MORINGA HELP WITH WEIGHT LOSS?
People looking for natural alternatives to care for their bodies are becoming increasingly aware of the benefits of this "amazing tree". The biochemicals in Moringa may have the potential to help balance blood sugar levels and may maintain cholesterol levels.
2. A HEALTHY BODY AND THE PERFECT WAISTLINE?
Moringa contains a number of active ingredients which, apart from promoting a slim waistline, can help balance the entire body.
3. CAN MORINGA HAVE ANY BENEFICIAL EFFECTS ON FERTILITY?
The chemical elements contained in the root can in fact prevent pregnancy. Pregnant women should therefore absolutely avoid this part of the plant. The seed coat and husk, which remain after extraction of the oily substances, may contain substances with the opposite effect. Their regular consumption can significantly promote fertility.
Moringa is extremely rich in a number of antioxidants, including for example kaempferol, zeatin, rutin, beta-sitosterol, quercetin and chlorogenic acid. These are substances with possible detoxifying effects which can help absorb toxic free radicals from the body.
5. POSSIBLE IMPROVEMENT OF THE FUNCTIONING OF THE DIGESTIVE SYSTEM
Mustard oils, which are contained in Moringa, can improve digestive disorders, gastritis, constipation and ulcerative colitis.
6. DOES IT HELP TO IMPROVE MEMORY?
If you are interested in improving your memory and boosting your brain performance, Moringa may be one of the best solutions available. In addition to this, the high concentration of vitamins E and C found in this plant can help people suffering from Alzheimer's disease to cope with oxidative stress.
7. MORINGA CAN HELP WITH SKIN CARE
The substances present in this magical tree can be a key ingredient in skin care products. They can protect against bacterial and fungal infections, can help as revitalisers, and can also slow down the ageing process. The high vitamin B content has the potential to cause moisturising properties. The antioxidants found in Moringa can help your skin to look well looked after and keep it protected from cell damage.
The biochemical compounds contained in Moringa have the potential to possibly strengthen the immune system. This is mainly due to its high concentrations of vitamin A (18.9%) and iron (32.2%).
9. GOODBYE TO FATIGUE AND EXHAUSTION?
Vitamin A, which is contained in powder from the dried leaves of the Moringa tree, can participate in the process of iron metabolism in the human body – an essential step in relieving fatigue and the feeling of exhaustion.
Moringa can be a rich source of protein, which is required for the growth and maintenance of muscle mass. The powder can be consumed in the form of a smoothie or as a sprinkle on salads. There can be no doubt that Moringa oleifera can be of immense benefit to humankind. Its nutritional value has the potential to help in prevention as well as in the actual improvement of the people's condition when they are ill. This tree grows very fast and can provide people a wealth of nutrients, natural unsaturated fatty acids, antioxidants and minerals which can strengthen the body's defence mechanisms in a versatile way.